Historical town view postcards
$1.00 each, or 4 for $3.00
Allegan County History Book
$3.00
Allegan County Heritage Trail CD
$12.00
Books
This 96 page soft cover book by local historian and author Ryan Wieber,
is a collection of  vintage photographs compared against modern shots of the same scenes. All images highlight the interesting changes to the historic town of Otsego over the past one hundred years.

Available at the museum or by mail-order.
$20.00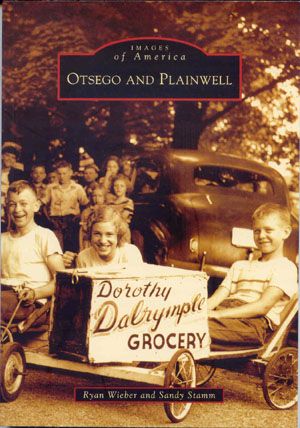 "Images of America - Otsego And Plainwell"
This 128 page soft cover book, by local authors and historians Ryan Wieber and Sandy Stamm, is a history of the communities of Otsego and Plainwell illustrated with historic pictures and well documented captions.

Available at the museum or by mail-order.
$20.00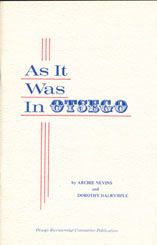 "As It Was In Otsego"
This 64 page, soft covered booklet is an excellent history of Otsego, written in 1975 by local historians Archie Nevins and Dorothy Dalrymple.  Several photographs and a detailed timeline from 1831 - 1975 are included in this wonderful booklet.
Available at the museum or by mail-order.
$5.00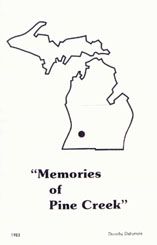 "Memories of Pine Creek"
This 27 page, soft covered booklet, written in 1983 by local historian Dorothy Dalrymple, is the history of Pine Creek, a small settlement about 1 mile west of Otsego.    The settlement of Pine Creek was started in 1831, and gave way to the backwaters of the Kalamazoo River in the very early 1900's, after hydroelectric power dams were placed in the river.

Available at the museum or by mail-order.
$5.00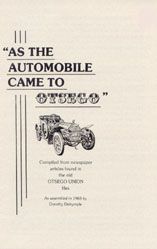 "As The Automobile Came To Otsego"
This 16 page, soft covered booklet, was assembled by Dorothy Dalrymple in 1965 from newspaper articles found in the old Otsego Union files.  The booklet features a detailed timeline from 1901 - 1965, as Otsego transitioned from the "Horse Age", to the "Automatic Age."

Available at the museum or by mail-order.
$3.00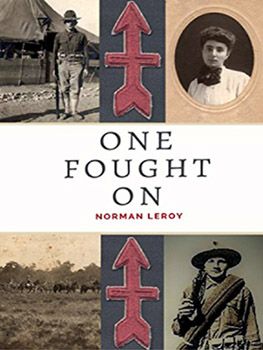 "One Fought On"
A biography of Corporal Lee A. Horton from Otsego, MI beginning in the early 1900's; it chronicles his life, wars, losses and loves.  Corporal Lee A. Horton found his destiny serving on three warfronts; the Philippines, the Mexican Border, and the maelstrom of World War I. The story is filled with the true life military experiences of a young American coming of age between 1908 and 1919, passed down through his family for generations.

Available at the museum or by mail-order.
$10.00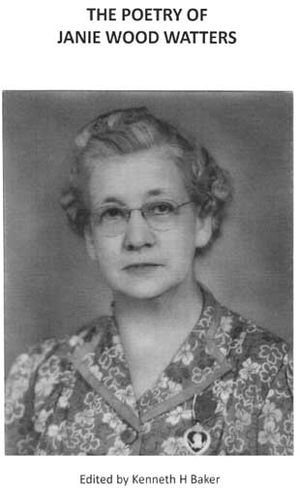 "The Poetry Of Janie Wood Watters"
Jane Wood was born in 1886 in Allegan County, Michigan. She grew up on a farm in Trowbridge Township near the Kalamazoo River. Her poems reflect her love for the peace and comfort the river gave her.

Available at the museum or by mail-order.
$10.00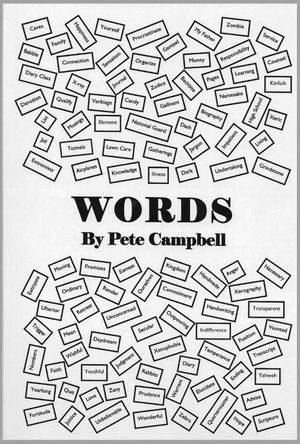 "Words"
Words by Pete Campbell is a collection of one Man's memories from the past and thoughts from his heart. It is written as a journal, inspired by words from the dictionary and by words that popped into his head.

Available at the museum or by mail-order.
$10.00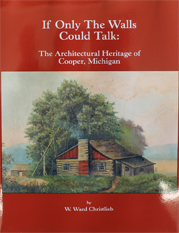 "If Only the Walls Could Talk"
"If only the walls could talk, what stories they would tell – of pioneering courage, of succeeding generations' hopes, aspirations, successes, and shortcomings and of the everyday lives of ordinary folks whose contributions have made Michigan such a remarkable place."

Based on years of exhaustive research, W. Ward Christlieb tells the stories of the walls cannot. He puts faces on the shadowy figures of the past, delineates their relationships to each other and the land and even introduces his readers to a ghost or two.

A rich social history of a rural Kalamazoo county, Christieb's volume is also a guide to the stately old homes that continue to grace the landscape while providing a precious link to earlier times.

Available at the museum or by mail-order.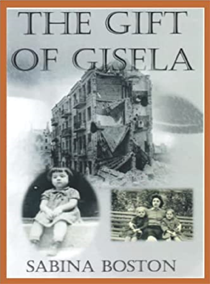 "The Gift of Gisela"
This is the story of Gisela, who was orphaned in the early 1930's, who was saved by a loving foster family in a working-class neighborhood in Berlin, Germany, who grew up under the scrutiny of Jewish oppression during her school years and who lived through the horrors of WW 2.

Following the war, she married a man who would abuse her, then convince her that starting a new life in America would fix all their problems. In 1959 the family immigrated to America (Otsego) only to have her husband abandon her for his mistress when the affair was uncovered. She found herself alone in a foreign country with two young daughters to care for, where she barely spoke the language, and with no family to support her, no money and no idea how to survive.

How she managed and forged ahead is a tale of pure perseverance, strength, determination and growth as she learned to find her own voice and overcome unthinkable losses. It's the story of learning to love again and overcome decades of heartbreak to find healing and happiness.

Available at the museum or by mail-order.
Miscellaneous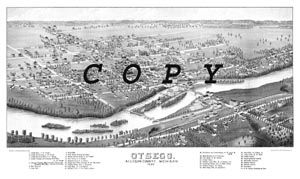 1880 Birdseye View of Otsego
This fine print of the 1880 Birdseye View of Otsego, will look great matted and framed. The view features names and numbered locations of the local businesses of the time.
Available at the museum.
5.00
Sherman, DeVries, Culver, Davis Photo Index
Click
here
for available images and purchase information.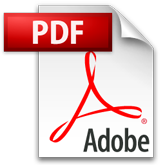 Buy an OAHS Brick Paver
Details and prices are available on the order form.